CIJ PRINTER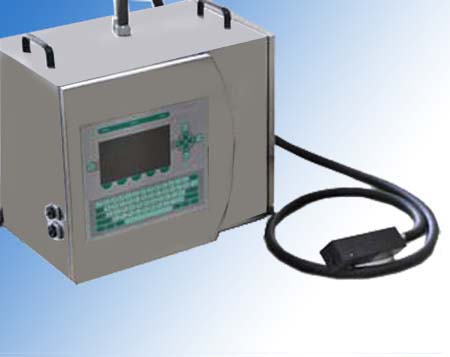 Rottweil E-Jet 455B continuous inkjet printer (CIJ) is engineered for industrial non-contact coding and marking application, capable of printing from 1~2 lines of text, nozzle 55um. Stable and reliable hydraulic system, Germany design.32 digits embedded LINUX operating system, 5 CPU chips, TFT color screen, QWERTY int'l standard keypad. USB port-easy upgrading, easy save/restore of print text & config. Maintenance reminding function, solvent bottle detector, nozzle self-cleaning function, solvent recycling system design, etc provides you all-round services.
Low utilization cost and low maintenance cost, specifically designed to meet basic coding across a wide range of substrates, it is ideal for printing date, time, batch number, graphics, trademarks, etc. A wide selection of 5、7、9、11、12、15、16dots print mode, multi-fonts and multi languages available.
Utilize fast dry ink, to those that offer outstanding adhesion to film, glass, metal, plastic, PE, PVC, paper, wood and rubber. In addition, different inks will be supplied according to your particular application, such as standard ink, pigment ink, food grade ink, ethanol resistant ink, UV ink, etc.
Main Feature:
LINUX operating system
Regular maintenance remind function
Solvent bottle detector
Nozzle self-cleaning function
Ethernet port
Training movie clips play function (Optional)
Low Price, but great performance
  
Low cost in both ownership and daily use
Low maintenance cost for main parts
Low price for consumables, but original
Regular maintenance only changes filters
User friendly pop-up window to remind changing filters
Solvent recovery system, to reduce solvent consumption (optional)
Magnetic stirrer, pigment
Simple Design, Easy Use
Head embedded valves for ink on and bleed, to shut ink line immediately when power off
Magnetic shielded print head cover
Magnifying glass to observe the ink breaking drop shape
4-screws to adjust alignment
Separated Charging Electrode
Positive air access available, to ensure the print head clean, under dust environment
Distance from print head to print surface 1~30mm
Back-up tube at print head
L shape head available
User Friendly Software
32 digits embedded LINUX operation system, five CPU chips
7" TFT color screen
WYSIWYG type of display
Int'l standard QWERT keypad
SC hot key to select special characters
PRINT MENU hot key to start/stop print instantly
INFO hot key to check running history and error list
MEDIA hot key to play training videos via USB disk, optional
Build-in logo editor to create/edit logos easily at any time
Electronic & Software Features
32 digits embedded LINUX operation system
User friendly interface, WYSIWYG display
Storage memory 40MB
"RUN/STOP" hot key to start/shut down printer automatically
"INFO" hot key to list the history of errors to ease maintenance
USB/Ethernet software upgrading
Pop-up window to remind changing filters in every 2000 hours
Real time and date with calendar
Three print mode: High Speed, Standard, Graph
Text format: Horizontal-reverse, Vertical-reverse, Negative, Double Space, Bold, Character Width
Defined grid value to move the editing cursors at a certain dot you need
3 counters & 4 shifts, automatically
OPS (Encoder Direction Recognition & Printing Compensation Function)
DMS (Distance Measuring System)
Passwords give access to different level of users
Multi operation language available
Instruction/training movie clips play function via USB disk, optional
Hydraulic System:
Compact design
Diaphragm pumps ensures the economical operation and reliable printing capability
Long life and low maintenance cost
High contrast printing
Solvent bottle detector, insufficient alarm